Vegan Recipes
Shepherd's Pie
Traditional shepherd's pie is an oven baked dish of lamb or mutton with diced vegetables in gravy, topped with a crust of mashed potato. The recipe dates back to the 1870s and is similar to cottage pie, which is made from minced beef instead of lamb.

This vegan shepherd's pie makes use of mutton flavoured soya mince, but it could be made from lentils instead. The vegetarian version is sometimes called 'Shepherdess pie'.
Ingredients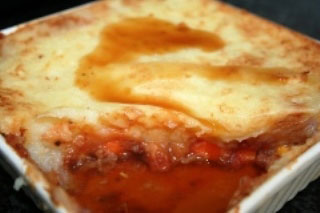 2 cloves crushed garlic
1 medium chopped onion,
½ cup minced soya (pref. mutton flavour)
2 tsp margarine
1 medium diced carrot
2 cups cauliflower
1 cup mushrooms
1 cup corn kernels
¼ cup soya milk
½ cup frozen peas
4 large boiled potatoes
1½ cups soya milk
¼ cup melted vegan margarine/butter
2 cups prepared vegetarian gravy of your choice
1 Tbsp oil
Pepper
Salt
Cooking Instructions
Heat a frying pan and add the oil. Sauté the onion, garlic and soya mince. Season with salt and pepper and wait until cooked. Set aside.
Heat a cooking pot and add the margarine. Sauté the carrots, cauliflower, mushrooms, corn, peas, and the large cup of soya milk. When the vegetables are half cooked, set aside.
In a bowl, mash the boiled potatoes with the margarine and the small cup of soy milk. Season with salt and pepper.
In a caserole dish, mix the soya mince and the vegetables. Top this mixture with the mashed potatoes, spreading to the edges.
Bake in a 180°C oven for 30 to 40 minutes, until the potatoes are browned and the mince mixture bubbles out of the edges.
Serve with your choice of vegetables and gravy ... and brown sauce.
Serves
2
people
Recipe supplied by

Marjorie Marino

,

Bulacan

, Philippines

Show Comments / Reviews
No Comments / Reviews