Vegan Recipes
Simple Shortcrust Biscuits
A simple recipe for shortcrust biscuits. They will never believe they are vegan when you tell them afterwards. The Sugar Police might forwn upon this recipe, but it is fine. Instead of consuming a jar of cookies, just take one! Use a food processor for best results.
Ingredients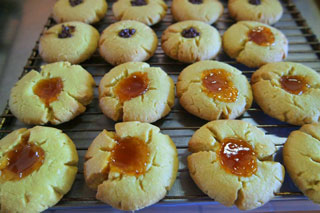 250g coconut oil (room temperature, solid is fine)
1 Cup granulated sugar
1/4 Cup butternut (Purity is fine)
3 Cups cake flour
Pinch of salt
2 tsp vanilla extract
2 Tbsp of corn flour
Few drops of cold water
Cooking Instructions
Pre-heat your oven to 180°C and spray 2 baking trays with cooking spray.
Place sugar, oil, butternut and extract in food processor and blend until smooth.
Mix the dry ingredients together and add gradually to the processor as you keep on mixing. If the mixture is to dry, add a few drops of water to it until it reaches a solid ball stage. If your mixture is too runny from the beginning, add more flour to it. It must be a soft, pliable dough.
There are 2 ways of shaping your cookies. You can shape small balls. Try to portion them at 50g each and shape a round ball. Place on baking tray and press slightly down. If you want to fill it with jam or chocolate spread, simply make a thump print in the centre. Leave space between the cookies, about 3 cm. They do spread and they rise slightly. The other method is to divide the dough in 2 and shape each like a thick sausage. Place in cling wrap and tie the ends. Place in the freezer for 30 minutes and slice 3 cm medallions out of each log.
Baking time varies between 12-15 minutes. Let the cookies rest on the baking tray for about 5 minutes before placing them on a cooling wrack. They are soft when you take them out and can break when you handle them. Once cooled, they get hard.
Variations: 1. You can add chocolate chips/nuts to the mixture. 2. Use Moir's Custard Powder - it is vegan, instead of corn flour. 3. Add allspice to the dry mixture or cinnamon.
Serves
16
people
Recipe supplied by

Pieter Kotzé

,

Langebaan

, South Africa

Show Comments / Reviews
No Comments / Reviews