Vegan Recipes
Smoked Tofu and Oat Bran Balls in Sweet & Sour Sauce
If you have a craving for a traditional South African sweet and sour meal for a while, this is one for you.
Ingredients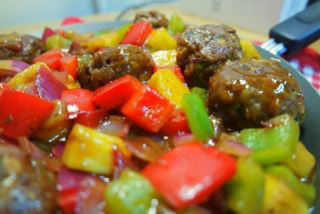 300g smoked/plain tofu or 1 can drained chickpeas, mashed
1 cup of oat flour (or blend a cup of rolled oats in a blender till fine)
1 cup of rolled oats
½ cup of wheat gluten
1 white onion, chopped
2 Tbsp chopped fresh coriander
1 tsp smoked paprika
1 tsp cumin
1 tsp coriander
½ tsp each ground cloves
½ tsp nutmeg
¼ cup fresh lemon juice
¼ cup olive oil
Freshly ground sea salt and black pepper to taste
2 Tbsp ground flax seeds, mixed with 6 Tbsp hot water, let rest for 5 minutes

Sweet & Sour Sauce1 onion, diced
2 cloves crushed garlic
1 green and 1 red pepper,chopped in blocks
30 ml (2 Tbsp) Canola oil
2 small carrots
125 ml (½ cup) blended fresh pineapple juice
125 ml (½ cup) red wine vinegar
125 ml (½ cup) sweet wine/ apple juice
125 ml (½ cup) tomato purée
60 ml (4 Tbsp) brown sugar
30 to 45 ml (2 to 3 Tbsp) cornflour, blended with a little cold water
30 ml (2 Tbsp) fresh ginger, chopped
1 Small peeled pineapple chopped in cubes
Salt and pepper
Cooking Instructions
Mix all the ingredients together and add some hot water to it if needed. The mixture should be moist, but not dry or runny, almost like an old fashioned oatmeal cookie. It should manage to form a solid ball that you can shape into a patty.
You can fry this in a pan or bake in the oven. You can make small balls and grill in oven for 20 minutes.
Add Balls to Sweet & Sour sauce and slow cook for additional 10 minutes.
Sweet & Sour Sauce
Chop the onion. Seed the green or red pepper and slice into cubes.
Heat the oil in a saucepan and fry the onion, garlic and peppers and finely chopped carrots and pineapple until tender.
Add the pineapple juice, vinegar, wine, tomato purée and sugar. Simmer for 10 minutes, stirring constantly.
Stir in cornflour and cook for 2 minutes, stirring constantly.
Add the pineapple, ginger, and salt and pepper.
Serves
4
people
Recipe supplied by

Pieter Kotzé

,

Langebaan

, South Africa

Show Comments / Reviews
No Comments / Reviews