Vegan Recipes
Vegan Sopas
Western style chicken soup in the Philippines is called 'Sopas' (literally, 'soup'). While there are many variations in the recipe, it usually contains chicken strips in broth, onions, vegetables (usually carrots, cabbage and celery), and macaroni noodles. It is cooked with evaporated milk to give it a richer flavor. However, this vegan sopas recipe uses veggie sausage, mock chicken julienne, and soya milk instead.
Ingredients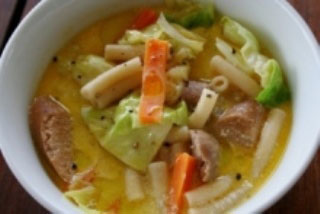 250g pasta (either shell or elbow)
1 cup mock chicken julienne
4 thinly sliced vegan hotdogs (can use vegan sausages for spicy taste if preferred)
2 crushed and roughly chopped cloves of garlic
1 finely chopped onion
1 carrot, cut into julienne strips
1 small, quartered head of cabbage
¼ cup thinly sliced celery
¼ cup vegan cream + ½ cup of soy milk (depends on desired creaminess)
1 vegetable broth cube
5 cups water
2 Tbsp vegetable oil + 1 Tbsp vegan butter
Salt and pepper to taste
Cooking Instructions
Boil the pasta in salted water until al dente (~8-10 minutes).
Fry the hotdogs and mock chicken meat. Set aside.
Sauté the garlic, onion and carrots in vegetable oil and vegan butter/margarine, and continue mixing.
Add in the water and vegetable stock cube, and cook for about 5 minutes.
Add the pasta, cabbage, cream and soy milk, mock chicken, hotdog and celery. Continue cooking for another 5 minutes. Adjust the taste with salt and pepper.
Turn off the heat. Leave for 3 minutes, garnish with fresh ground peppercorns and then it's ready to serve with bread. Enjoy your vegan chicken sopas!
Serves
2
people
Recipe supplied by

Marjorie Marino

,

Bulacan

, Philippines

Show Comments / Reviews
No Comments / Reviews