Vegan Recipes
Spicy Chocolate Biscuits
Inspired by 99% Lindt and chilli powder. This is one of my favourite homemade cookies and I decided to bake this after I bought 99% Lindt for the first time. I was slightly caught off guard, the packaging looks the same, yet it contains half the standard weight. It is all worth it though.
Ingredients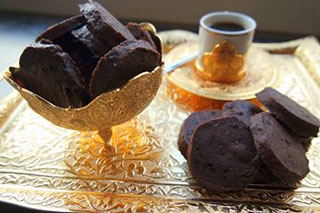 170g organic coconut oil
1/2 cup of golden caster
1/3 cup of soft brown sugar
4 Tbsp of brine (can use from a can of black-beans)
2 Tbsp of organic butternut purity
1 tsp of vanilla extract
2 Tbsp of Dutch processed cacao
1 tsp ground cinnamon
1/2 tsp of sea salt
1/4 tsp or more chilli powder (or more :))
Pinch of sieved ground black pepper
2 cups of stone ground cake flour
50g of 99% Lindt chocolate, finely chopped
Cooking Instructions
Preheat oven to 160ºC.
Cream the coconut oil and sugars until light and fluffy.
Add the pumpkin, brine and vanilla and beat well. Add the spices and mix thoroughly.
Combine the flour into mixture. Mix to a dough.
Lastly, add the chocolate and mix through the dough. At this point it will become a bit crumbly but keep mixing gently as it should become a ball of dough.
Break the dough in half and roll each into a log with a diameter of about 30 mm. Wrap separately in wax paper or foil and refrigerate for 3 hours.
Line 2 baking trays with baking paper.
Take one log out of fridge, unwrap and cut into 7 mm thick slices. Place on a tray, spaced at least a 30 mm apart. Repeat with second log on to second tray.
Bake 15 to 20 minutes until firm.
Transfer to a wire cooling rack to cool - or enjoy them warm!!
Serves
16
people
Recipe supplied by

Pieter Kotzé

,

Langebaan

, South Africa

Show Comments / Reviews
No Comments / Reviews