Vegan Recipes
Spicy Glass Noodle Salad
A spicy Thai salad with glass noodles ('Yam Woon Sen'), this dish is often made with minced pork and often either mixed seafood, squid or prawns. However, for a vegan version try it with fried firm tofu, sliced veggie sausage or mock chicken strips.
Ingredients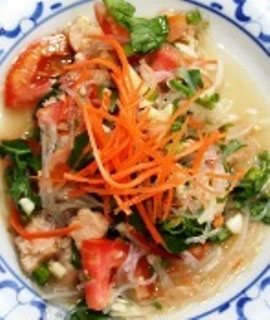 1 cup glass noodles
½ cup soya mince
1 shallots, sliced
2 cloves of garlic, roughly chopped
3 finely chopped red chilles
¼ cup roughly chopped chinese celery
2 Tbsp vegan fish sauce
2 Tbsp lime juice
1 tomato, cut into ½ lengthways and thinly sliced
Coriander leaves
Cooking Instructions
Soak the glass noodles in water for 10 minutes and cut them into a convenient length.
Boil the soya mince in water or coconut milk. Set aside 4 tablespoon fulls of the water or coconut milk.
Put the noodles into some boiling water and leave for about 1 minute and drain. Transfer the glass noodles into a bowl of cold water and leave for a further 1 minute.
Strain the glass noodles and put into a bowl along with the soya mince, the water or coconut milk that was used to boil the soya mince, garlic, onion, chillies, chinese celery, vegan fish sauce, lime juice and tomato. Mix thoroughly.
Garnish with coriander.
Serves
2
people
Recipe supplied by

Marjorie Marino

,

Bulacan

, Philippines

Show Comments / Reviews
No Comments / Reviews