Vegan Recipes
Spirulina Chocolate Peppermint Bites
Spirulina is an incredible food worthy of the superfood title. A blue-green algae known as a cyanobacteria, spirulina is now one of the most researched superfoods along with its similar sister, chlorella. High in protein, vitamin B1, B2, B3, copper and iron. Spirulina also contains magnesium, potassium, and manganese.

Raw cacao is chocolate in its purest form, without any additional sugars or chemicals added. It is considered to be one of the most nutrient-rich foods, with 14 times the amount of antioxidants that red wine has and 21 times the amount of antioxidants in green tea. Antioxidants are powerful compounds that are essential for keeping our bodies healthy.

Stock pile your refrigerator with these Spirulina Chocolate Peppermint Bites so that you'll always have a nutrient-rich snack handy!
Ingredients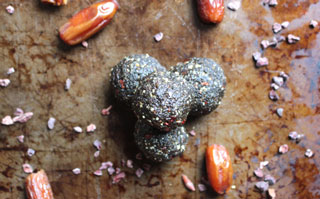 1 cup raw walnuts
¼ cup raw almonds
1¼ cup dates
1 Tbsp raw cacao
1 Tbsp spirulina
½ tsp peppermint extract
2 Tbsp cacao nibs
Cooking Instructions
Place th walnuts and almonds into a food processor. Process until nuts are in small pieces, but don't let the nuts become butter!
Add remaining ingredients – dates, raw cacao, spirulina, peppermint extract and cacao nibs. Process the mixture until all of the ingredients start to stick together.
Place the mixture in the fridge for 1 hour to set.
Remove from the refrigerator and roll mixture into tablespoon-sized bites.
Store in a sealed container in the refrigerator until ready to eat.

Show Comments / Reviews
No Comments / Reviews