Vegan Recipes
Spring Rolls
Spring rolls are a type of fried pastry. The roll wrappers are made from rice flour, salt and water and sometimes from tapioca flour. Their fillings can be vegetarian, but may also be made with tofu, meat or even seafood. Spring rolls can be found in several Asian countries, most notably China, Vietnam, Thailand (Por pia tord), the Philippines and Indonesia (both called Lumpia). Fried spring rolls are generally smaller and crispier. Non-fried spring rolls are typically larger and more savoury.
Ingredients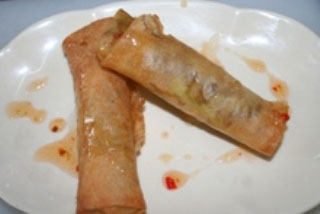 Spring rolls:
Spring roll wrappers
½ packet vermicelli noodles (the very fine pale ones)
1 small finely chopped onion
1 clove finely chopped garlic
1 grated medium carrot
1 cup bean sprouts
2 finely chopped spring onions
1 cup shredded cabbage
1½ Tbsp light soy sauce
½ Tbsp palm sugar
Cooking oil
Salt and pepper to taste
1½ cups water
¼ cup corn starch

Chilli dipping sauce:
1½ Tbsp chilli paste
2 tsp finely chopped garlic
¼ cup white vinegar
½ cup water
¼ cup sugar
½ tsp salt
2 tsp corn flour
2 Tbsp finely chopped coriander
Cooking Instructions
Soak the noodles in some water until soft. Drain and cut into small strips.
Heat some oil in a wok and fry the onion and garlic until fragrant. Add the carrot, spring onions, cabbage and season to taste with soy sauce, sugar, pepper and salt. Stir well. Cover and cook over a low heat for a few minutes.
Add the bean sprouts and stir through. Stir fry until dry, then remove from the pan and allow to cool.
To make the flour paste, mix the corn starch and water and then boil to thicken.
Spread out flat a spring roll wrapper, placing 2 tablespoonfuls of the stirfry as a filling in the middle of the wrapper. Fold the ends over the filling to form a cylinder, and stick closed the wrapper ends with flour paste.
Fry the spring rolls in the hot oil over low heat until crisp and golden brown. Drain and serve with sweet and sour sauce, sweet basil (horapa), cucumber and lettuce.
For the chilli dipping sauce, place all the ingredients except for the coriander in a small saucepan and bring to the boil, simmering for 5 minutes. Stir in the coriander and cool before serving.
Serves
4
people
Recipe supplied by

Marjorie Marino

,

Bulacan

, Philippines

Show Comments / Reviews
No Comments / Reviews