Vegan Recipes
Tempeh
Tempeh (also spelt 'Tempe') has been a traditional food favourite in Indonesia for several hundred years. It is a complete protein source that contains all the essential amino acids. It is made from fermented soy beans, and has a firm texture and nutty flavour. Tempeh can be eaten as a snack with chilli or peanut/satay sauce, or can be used as an ingredient for more complex dishes.
Ingredients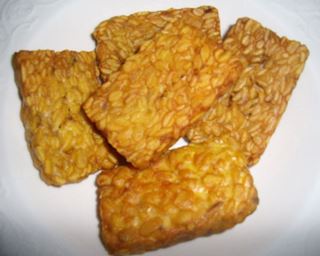 300g de-hulled and cracked soy beans
3 Tbsp vinegar
1 tsp tempeh starter (order through the internet)
3½ Tbsp olive oil
1 tsp salt
Cooking Instructions
Soak the soy beans in 2 litres of water for 6 to 18 hours.
Put the beans in a cooking pot full of water and add the vinegar.
Cook for 30 minutes.
Drain off the water.
Continue heating the soy beans in the pot on medium heat until the beans are dry.
Allow the soy beans to cool to below 35°C.
Sprinkle the beans with tempeh starter.
Thoroughly mix to distribute the tempeh starter evenly, to reduce the risk for spoilage, and so the fermentation process will be faster.
Take 2 plastic bags 18 x 28 cm and perforate them with nail-sise holes at a distance of about 1 cm. This will allow the mould in the tempeh starter to breathe.
Divide the soy bean mix into the 2 bags and seal them.
Press the bags flat, making sure that the total thickness of the beans is a maximum of 3 cm.
Place the bean bags in a 30°C warm place for about 36 to 48 hours to allow the fermentation to take place.
After this time the bags should be completely filled with white mycelium, and the tempeh can now be lifted out as a whole piece.
Slice the tempeh into biscuit size pieces, about ½-¾ cm thick.
Brush with olive oil and sprinkle with salt.
Bake at 200°C until crispy and light brown.
Note: if you use whole soy beans you should split them by kneading. Stirring gently in water will cause the hulls to rise to the surface, where you can strain them off.
Serves
5
people
Recipe supplied by

Dewi Wulandari

,

Bali

, Indonesia

Show Comments / Reviews
No Comments / Reviews