Vegan Recipes
That healthier Easter Egg
Gluten-free, sugar-free and raw vegan Easter eggs that you can make in South Africa.
Ingredients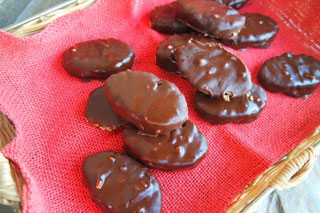 For the filling:
3 cups of gluten-free muesli (chop the whole nuts slightly)
1/3 cup nut butter
1/3 cup maple syrup
1/3 cup coconut oil

For the chocolate:
½ cup coconut oil
½ cup of maple syrup
2 Tbsp of nut butter
½ cup of Dutch processed cacao
Cooking Instructions
For the filling:
Mix all the ingredients together.
Take a tray and cover with a sheet of wax paper.
Take an old cookie cutter and squeeze the sides in order to form an oblong shape.
Place the cutter on the sheet and add some of the mixture. Whet hands slightly and press mixture down so it covers evenly. Slowly release by pressing with your fingers on the inside, more towards the outside. Continue till all the mixture gets used.
For the chocolate:
Melt the first 3 ingredients. Never bring to boiling point (this is critical). Suggest using a double boiler.
Remove from the double boiler, whisk till smooth and creamy.
Whisk in the cacao powder.
Place Tray with shaped eggs in deep freezer for 30 minutes.
Remove from freezer and dip one side into the chocolate. Place back on tray with un- coated side on the sheet.
Freeze again and do the other side. Store in fridge.
Serves
12
people
Recipe supplied by

Pieter Kotzé

,

Langebaan

, South Africa

Show Comments / Reviews
No Comments / Reviews