Vegan Recipes
Tom Kha Soup
A relatively mild Thai soup made with coconut milk, galangal (kha) and mushrooms. It has a silky smooth consistency and has a pungent lemon/ginger flavour and aroma to it.
Ingredients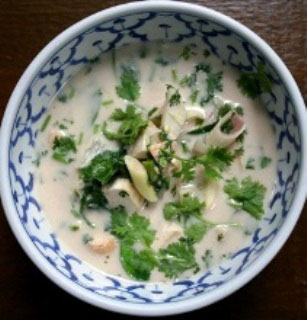 1 cup coconut cream
1 cup coconut milk
4 Tbsp sliced galangal
2 sliced lemongrass
1 sliced shallot
5 small chopped chillies
1 cup oyster mushroom
1 cup straw mushroom, cut into halves
2 Tbsp vegan fish sauce
3 kaffir lime leaves, torn into pieces (discard the stems)
2 Tbsp lime juice
½ cup roughly chopped coriander leaves
1 Chopped spring onion

Cooking Instructions
Put the coconut cream and milk into a wok on a high heat. Add the galangal, lemongrass, shallots and chillies and bring to the boil.
Simmer for 3-5 minutes, add the mushrooms and then stir.
Add the vegan fish sauce and kaffir lime leaves, and bring back to boil.
Add the half the coriander and turn off the heat. Stir in the lime juice.
Garnish with the remaining coriander and spring onions.
Serve hot.
Serves
2
people
Recipe supplied by

Marjorie Marino

,

Bulacan

, Philippines

Show Comments / Reviews
No Comments / Reviews