Vegan Recipes
Vegan Fish Curry
This recipe was a finalist in the 2013 Fry's Curry Cook-Off competition. It is made with vegetarian schnitzel instead of fish.
Ingredients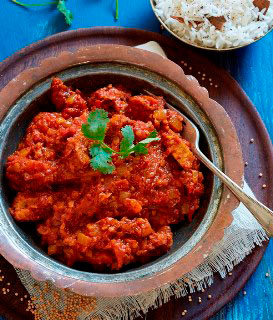 1 box golden crumbed schnitzels
25 ml oil
1 chopped onion
5 cloves of garlic, peeled and crushed
½ tsp jeera (cumin)
A pinch of roasted and ground mustard seeds
A pinch of roasted and ground methi (fenugreek)
2 Tbsp mixed masala (chilli powder, turmeric powder, gharam masala)
2 green chillies
2 Tbsp tomato sauce
10 over-ripe tomatoes, grated
50g seedless tamarind, soaked in 125 ml hot water
8 curry leaves
Salt and sugar to taste
Dhania (coriander) to garnish
Cooking Instructions
Pan fry in 5 ml of oil, or oven bake, the golden crumbed schnitzels then set aside.
Sauté the chopped onions in 20 ml of oil. Add the jeera, mustard and methi seeds, together with the crushed garlic. Add the mixed masala, green chillies and grated tomatoes.
Simmer until the tomatoes have reduced to a paste, then add the tomato sauce and tamarind. Add the curry leaves, salt and sugar to taste. Place the cooked schnitzel in the sauce and simmer for 10-15 minutes.
Serve hot, with roti or basmati rice. Garnish with dhania.
Serves
4
people
Recipe supplied by

Seena Singh

,

Region not supplied

, South Africa

Show Comments / Reviews
No Comments / Reviews