Vegan Recipes
Spinach, Mushroom and Sun-Dried Tomato Quiche
Quiche is an open-faced pastry shell filled with a savoury custard combined with a filling such as cheese, meat or vegetables. It is often made with milk and eggs although vegan quiche uses firm tofu and non-dairy cream instead. Quiche can be served hot or cold.
It is most often thought of as part of French cuisine but is also popular in other countries, particularly as a party food. The word means 'cake' and comes from the German word 'Kuchen'.
There are many variaties of quiche, such as Quiche Lorraine (bacon), Quiche aux champignons (quiche with mushrooms), Florentine (spinach) and Provençale (tomatoes).
Ingredients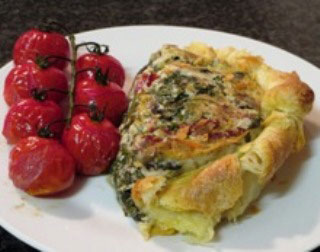 2 blocks firm tofu
2 Tbsp vegan cream (can use Olay)
1 Tbsp vegetable oil
1 chopped onion
3 roughly chopped cloves garlic
2 cups sliced mushrooms
1/3 cup oil-packed sun-dried tomatoes, roughly chopped
2 cup baby spinach
2 Tbsp mixed herbs
2 Tbsp red pepper flakes
Black pepper and salt, to taste
1 packet vegan puff pastry

Cooking Instructions
Preheat your oven to 350°F/190°C. Roll the puff pastry then transfer it to a tart pan. Alternatively, you can use a 9-inch glass pie dish if desired. Trim the edges.
Break apart the tofu blocks into 4 pieces and add into a food processor. Process the tofu until smooth and creamy. Add the vegan cream and stir well. Set aside.
In a skillet, add vegetable oil and sauté the onion and garlic until fragrant. Stir in the mushrooms and season with salt, and cook for 5-10 minutes.
Add in the mixed herbs, sun-dried tomatoes, spinach, salt, pepper, and red pepper flakes until combined. Cook until the spinach is wilted.
Remove from heat and stir in the tofu mixture until thoroughly combined. Adjust seasoning to taste if desired. Spoon the mixture into prepared crust and smooth out with a spoon until even. Bake until crust is golden brown and filling is set, about 20-25 minutes.
For best results, cool the quiche for 15-20 minutes on a cooling rack before attempting to slice. Serve with salad or vegetables.
Serves
2
people
Recipe supplied by

Marjorie Marino

,

Bulacan

, Philippines

Show Comments / Reviews
No Comments / Reviews