Vegan Recipes
Vegan Sausages
Simple-to-prepare homemade vegan sausages, don't miss out on one of your childhood faves!

These sausages are ideal in hot dogs, at braais, part of a cooked breakfast, or in a stew or cottage pie.
Ingredients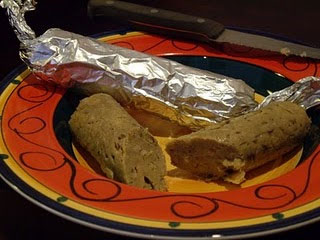 ½ cup cooked or canned beans (haricots or such like), rinsed and drained
1 cup cold water
2 tsp vegetable stock
2 Tbsp soy sauce
4 cloves crushed garlic
1¼ cups wheat gluten
¼ cup nutritional yeast
2 Tbsp granulated onion
2 tsp coarsely ground pepper, preferably freshly ground
2 tsp ground paprika
½ tsp dried oregano
1 tsp crushed Himalayan rock salt
1/8 tsp ground allspice
Cooking Instructions
Get everything ready. These sausages are really quick to make so get the water boiling and your steamers ready. Get 6 sheets of tin foil ready, about 30 x 20 cm in size.
In a large bowl, mash the beans until fairly well mashed. Add the rest of the ingredients in the order they are listed, and mix with a fork.
Divide the dough into 6 or 8 pieces, depending on how big you want the sausages to be. Place one portion in a piece of tin foil, shape it more or less like a log, and then roll up in the foil. Twist the ends like a Christmas cracker and that's it. Repeat with the other sausages.
Steam for 30 minutes.
Serves
4
people
Recipe supplied by

Debbie Rogers

,

Cape Town

, South Africa

Show Comments / Reviews
2 Comments / Reviews