Vegan Recipes
Sweet Potato and Caramelized Onion Quiche
A great vegan quiche, made from only ingredients that are easy to find in South Africa - perfect when entertaining, buffets and dinner spreads.
Ingredients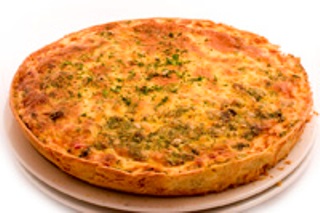 Ingredients for the base:
1 cup spelt flour
2 Tbsp vegetable oil
Pinch Cayenne pepper
Salt
Black pepper

Ingredients for the filling:
800g plain tofu
250 ml soya milk
2 Tbsp vegetable stock
2 Tbsp English mustard
½ tsp Cumin powder
Dash of soya sauce
3-4 sweet potatoes (sliced and slow roasted in the oven with olive oil and sea salt)
Caramelized onions
Fresh basil
Cooking Instructions
Method for the filling:
Wash and roughly chop up the sweet potato.
Rub the sweet potatoes and season with olive oil, and then bake them at 200°C until done.
In a food processor (Magi Mix), add the soya milk, tofu, mustard, cumin powder and soya sauce, and blend until smooth. This is the vegan custard base.
Turn the roasted sweet potato and caramelized onion into the mixture gently.
Add to the quiche base and bake for about 25-30 minutes or until there is a little colour.
Garnish with fresh basil.
Method for the base:
In a mixing bowl, add the vegetable oil to the spelt flour and rub together gently to get a breadcrumb texture.
Add a little water so that the pastry binds.
Roll out and place into your quiche mould.
Place in the freezer for at least a half hour.
Bake for 15 minutes.
Serves
4
people
Recipe supplied by

Fresh Earth Food Store

,

Gauteng

, South Africa

Show Comments / Reviews
No Comments / Reviews