Vegan Recipes
Vegetable Phal
Phal, sometimes spelt faal, phaal, phall or paal, is a curry dish, which originated in Indian restaurants in the UK.
It is one of the hottest forms of curry regularly available, even hotter than vindaloo, using a large number of ground standard chili peppers, or a hotter type of chili such as scotch bonnet or habanero. Typically, the dish is a tomato-based thick curry.
Phal has achieved notoriety as the hottest dish generally available in Indian restaurants. For this reason, it is popular with 'macho types' after a few drinks on a weekend night out.
Ingredients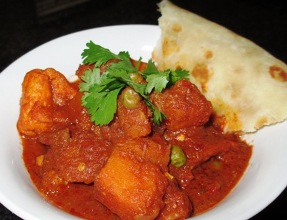 2 blocks firm tofu, cubed
2 cup mixed vegetables (sweet potato, potato, butternut)
1 cup cauliflower and broccoli
½ cup peas
2 Tbsp vegetable oil
1 Tbsp vegan margarine
1 tsp whole mustard seeds
1 peeled and finely chopped large onion
3 coarsely chopped scotch bonnet or habaneroes, or 6 bird's eye chillies
1 inch piece of fresh ginger root, peeled and grated
2 peeled and crushed cloves garlic
2 chopped large tomatoes
4 tsp chilli powder
1½ Tbsp extra hot curry paste
2 Tbsp garam masala powder
2 cup water or vegetable stock
Roughly chopped fresh coriander leaves for garnish
Cooking Instructions
Heat the oil and vegan margarine/butter in a large frying pan over a medium to high heat. Add the whole mustard seeds and fry until they sizzle and crackle, then add the chopped onions and reduce the heat to low. Fry until fragrant, stirring often.
Add the ginger, garlic and scotch bonnet or habanero and stir for few minutes.
Add in the tomatoes, tomato paste, chilli powder, extra hot curry paste, garam masala, with a little water or vegetable stock. Stir well and cook for a couple of minutes.
Now add the mixed vegetables, add more water and mix very well. Turn up the heat until the sauce begins to simmer. Leave to simmer for 10 minutes, stirring occasionally.
Add the cauliflower and broccoli, peas and tofu and bring to the boil. Reduce the heat and simmer gently for 5 minutes (add more hot water if the curry becomes too thick).
Garnish with the chopped coriander leaves and serve with rice and your favourite flat bread.
Serves
2
people
Recipe supplied by

Marjorie Marino

,

Bulacan

, Philippines

Show Comments / Reviews
No Comments / Reviews