Vegan Recipes
Vegetarian Kare-Kare
The Philippine meat and peanut sauce stew recipe, kare-kare (or kari-kari), usually has ox tripe or pork legs as the main ingredient. However, this vegetarian kare-kare only uses the vegetables and omits the meat.
Ingredients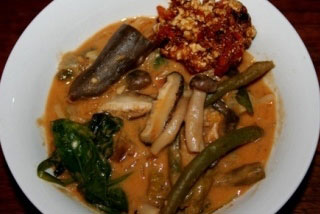 2 blocks firm tofu or any mock meat, fried and quartered (optional)
1 cup shiitake or mixed mushrooms
2 eggplant, quartered
1 cup spinach (optional)
1 cup string beans or green beans, cut into 1-½ inch long
1 bunch pechay (or chinese cabbage)
1 banana bud or bamboo shoots, chopped
2-5 cloves garlic, crushed and roughly chopped
1 onion, finely chopped
2 medium tomatoes, chopped
½ cup ground peanuts or ½ cup peanut butter dissolve in 1 cup of hot water (add more if nedded)
3-5 Tbsp oil
¼ cup or less uncooked rice
Salt to taste
Soy sauce as desired

Vegan Bagoong Alamang:
1 small carrot, finely grated or kangkong (water spinach), finely minced
5 Tbsp black salted Tausi beans (fermented black beans)
2 - 5 cloves garlic, crushed and roughly chopped
1 onion, finely chopped
1 tomato, chopped
3 red chilies, sliced
1 block silken tofu, crumbled
2 Tbsp brown sugar
Cooking Instructions
To roast the rice; Heat the pan on a medium/medium high heat. Once it is hot enough, pour the rice. Important to keep the rice moving so that won't burn. When the rice turned brown, set aside.
Sauté garlic, onions and tomatoes. Add salt and soy sauce. Add roasted rice, cook for approximately 5 minutes.
Add the mushrooms, banana bud, string beans and then the pechay, eggplant and tofu.
When the vegetables are slightly cooked, add the ground peanuts or peanut butter. Bring to a boil. Don't overcook. Salt to taste.
Add spinach. Stir.
For Vegan Bagoong Alamang:
Mash the black Tausi beans. Set aside.
Sauté garlic, onion and tomato. Add the mashed black tausi beans.
Add the carrots and crumbled tofu in the pan. Mix thoroughly. Season with sugar.
Garnish with ground ground peanuts.
Serve with steam rice, vegan bagoong alamang (vegan sauteed salted shrimp paste) and chilli and calamansi juice (lime or lemon juice).
Serves
2
people
Recipe supplied by

Marjorie Marino

,

Bulacan

, Philippines

Show Comments / Reviews
No Comments / Reviews