Vegan Recipes
Wholesome Grain Salad
This wholesome vegan grain salad is simple, filling and can be enjoyed as lunch or supper. It's a combination of grains, spices and fruit and so it boasts great flavour.
Ingredients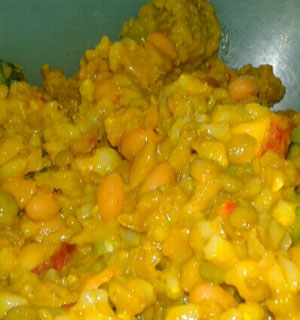 ½ cucumber (diced)
1 packet soup mix grains
Salt
2 spoons medium curry powder
¼ cup olive oil
1 chopped onion
½ chopped green pepper
½ chopped yellow pepper
1 red apple (diced)
Sweet chilli sauce
1 can baked beans
½ cucumber (diced)
1 lemon
Cooking Instructions
Boil the soup mix grains for 1 hour then rinse and deposit into to a bowl. Ensure that the water is drained completely.
Add the olive oil to a heated pan and once the oil is hot enough, add in the curry powder and add in the onion and peppers 1 minute later and suatee for 3 minutes. Add in the salt to taste.
Add in the soup mix grains and stir thoroughly for 4 minutes (until aĺl the ingredients have properly mixed).
Deposit the mixture into a bowl and leave to cool for an hour.
Add in the apple, cucumber, baked beans and mix well.
Squeeze 1 lemon for juice and mix.
Add in the sweet chilli sauce (about half a cup), just so it's enough to taste.
Serves
6
people
Recipe supplied by

Zanele Khangale

,

Lenasia, Johannesburg

, South Africa

Show Comments / Reviews
No Comments / Reviews