Vegan Recipes
Wonderfully Gooey Sticky Date Pudding
This vegan pudding recipe is for those with a sweet tooth. It is thought that dates first originated from the Persian Gulf area and that the date palm was the first cultivated tree in the world. Documented history suggests that the Iranians were the first culture to use dates as a food.
Ingredients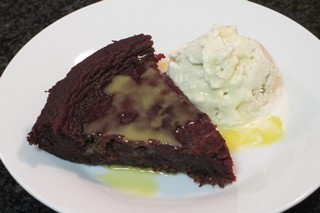 3/4 cup stoned and chopped dates
1 tsp baking powder
4 Tbsp vegan margarine
3/4 cup sugar
2 egg replacers or ½ well blitzed banana
1 1/3 cups self-raising flour
1 tsp vanilla extract
2 ¼ cups light brown sugar
7 Tbsp vegan margarine
1 cup orley whip or soya cream
¼ tsp vanilla extract
1 3/4 cups water
Whipped Orley Whip, extra, optional
1 tsp brandy (optional)
Cooking Instructions
Preheat the oven to 180°C and 'spray and cook' a smallish baking dish.
Boil the dates in the water until soft, then add the baking powder. It will foam up. Remove from heat.
Cream the margarine and sugar together until light (don't worry if it looks curdled) then add the egg replacer or well beaten banana and beat well.
Mix in the dates, flour and vanilla, then pour into the baking tin and bake for 30-35 minutes, or until just firm to the touch. Be careful not to over-bake.
Sauce: Combine the brown sugar, second batch of margarine, Orley Whip or soya cream and brandy in a saucepan and bring to a boil for 3 minutes. Remove from the heat and stir in the vanilla.
To serve: cut the cake into rectangular pieces. Place a slice in a bowl. Pour a generous amount of warm sauce over the top. You can serve just like that or add a nice dollop of the whipped Orley over the top.
Serves
4
people
Recipe supplied by

Toni Brockhoven

,

Cape Town

, South Africa

Show Comments / Reviews
No Comments / Reviews