Famous Vegans
There are many well known and celebrity vegans who have contributed positively toward animal awareness and have shown that being vegan does not mean sickly, frail and lacking in nutrients due to a plant based diet. Below is a list of vegans, who have excelled in their choice of career and are famous for doing so:
Famous South African Vegans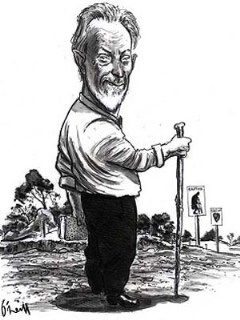 Miriam Backhouse-Erasmus, folk singer
Robert Cheeke, body builder and creator of www.veganbodybuilding.com


JM Coetzee, popular writer and Nobel prize winner
Bheki Khoza, jazz musician and traditional Zulu guitarist
Morris Krok, author on the fruitarian diet
Zakes Mda, author, poet and professor of English at Ohio University
Kerishnie Naiker, former Miss South Africa
Grant Nash, 5FM radio show host
Lisa Raleigh, weight loss and wellness clinic group owner and personal fitness trainer
Colé van dais, singer/songwriter
Mahatma Ghandi, peace activist and politiciant, was a vegetarian and 'would-be' vegan.
International Stars
Famous Vegan Musicians
Adam Russell, bassist of Story of the Year
Alan Donohue, singer of British rock band The Rakes
Alanis Morissette
Andre Tonelli, musician and instrumental guitarist
Andy Hurley, musician and drummer of Fall Out Boy
Anoushka Shankar, musician and sitar virtuoso
Anthony Kiedis, lead vocalist of The Red Hot Chili Peppers
Barry White
Benjamin Zephaniah
Bif Naked, punk rocker
Brian Bell, Weezer
Bryan Adams, singer and songwriter
Cedric Bixler-Zavala, singer of The Mars Volta
Chelsea Clinton, daughter of ex-US president Bill Clinton
Chrissie Hynde, ex-lead vocalist of The Pretenders
Daniel Johns, Silverchair
Danny Nova, singer and songwriter
Davey Havok, singer of AFI
Emilie Autumn
Erykah Badu, R&B singer
Fiona Apple, singer and songwriter
Forrest Kline, vocalist and guitarist for Hellogoodbye
Fred Mascherino, musician of Taking Back Sunday
Gabe Saporta, singer and lyricist of Cobra Starship
Grace Slick, singer and songwriter
Heather Small
Ian MacKaye
Isa Chandra Moskowitz, punk rocker and vegan cookbook author
Jason Mraz
John Feldmann, musician of Goldfinger
John Robb, musician and actor
Jonathan Richman, musician and singer
KD Lang
Kyle Vincent, singer and songwriter
Leona Lewis, British pop star
Linda Perry, ex-lead vocalist of 4 Non-Blondes
Masami Akita
Michael 'Mickey' Madden, bassist for Maroon 5
Michael Franti, singer of Spearhead
Moby
Morrissey, singer and ex-lead vocalist of The Smiths
Ocean, Indie musician and singer
Omar Rodriguez-Lopez, The Mars Volta
Ozzy Osbourne, singer, ex-lead vocalist of Black Sabbath and star of 'The Osbournes'
Pat Thetic, musician and drummer of Anti-Flag
Phil Collen, Def Leppard
Propagandhi, political punk rock band (all members)
Quinn Allman, The Used
Rikki Rocket, musician and drummer of Poison
Robin Gibb, Bee Gees
Russell Simmons, co-founder of Def Jam Records
Saul Williams
Shane Told, Silverstein
Sinead O'Connor
Steve Kilbey, singer and lyricist of The Church
Steve Vai
Stic.man, Dead Prez
Ted Leo
Thom Yorke, singer of Radiohead
Tim Commerford, Rage Against the Machine
Tim McIlrath, Rise Against
Weird Al Yankovic, comedian and musician
Yazz
Famous Vegan Actors / TV Personalities
Alec Baldwin
Alicia Silverstone
Alyssa Milano
Andrew G
Apu Nahasapeemapetilon, actor (fictional) of Simpsons
Billy West, voice actor
Brad Pitt
Bugs Bunny
Carrie Anne Moss, actress in Matrix trilogy
Casey Affleck
Catherine Spaak
Darren Boyd
Daryl Hannah, actress and environmental activist
Demi Moore
Elijah Wood
Ellen Degeneres, chat show host
Emily Deschanel, actress and producer
Eric Roberts
Gabrielle Miller
Gillian Anderson
Ginnifer Goodwin
Greg Cipes, actor and musician
Gwyneth Paltrow
James Cromwell, actor and animal rights advocate
Joanne Rose
Joaquin Phoenix
Jorja Fox
Kevin Nealon, comedian and actor
Linda Blair
Lindsay Wagner
Lori Petty
Mariana Tosca, actress and activist
Martin Shaw
Natalie Kidman
Natalie Portman
Nellie McKay, actress, singer and songwriter
Niels 'Polleke' Tijssen
Olivia Wilde, actress, screenwriter, director, and model
Pamela Anderson, actress and animal rights advcate
Pamelyn Ferdin, actress and voice in Charlotte's Web
Peter Bogdanovich, film director
River Phoenix
Russell Brand, comedian and actor
Samuel L. Jackson, actor
Sara Gilbert
Sean Conant
Seba Johnson, Olympian, actress, and writer
Shane Sweet
Skippy the Kangaroo
Sophie Ward
Spice Williams
Steve-O, stuntman and star of Jackass
Summer Phoenix
Thomas Dekker
Tobey Maguire
Vanessa A. Williams, actress and dancer
Woody Harrelson, actor (most famously, bartender in Cheers)
Famous Vegan Sports Stars
Billy Simmonds, professional bodybuilder
Brendan Brazier, endurance athlete and ex-professional Ironman triathlete
Carl Lewis, Olympic gold medal sprinter
Christine Varderos, ex-US national team cyclist
David Haye, ex-heavyweight boxing world champion
Ed Templeton, professional skateboarder
Frank Medrano, superhuman
Geoff Rowley, professional skateboarder
James Willstrop, squash champion
Jason Gillespie, ex-Australian test cricket player and Yorkshire CCC head coach
Joe DeMarco, pro-body builder
John Salley, retired American basketball player, actor and talk show host (first player in NBA history to play on 3 different championship-winning franchises)
Lizzie Armitstead, Olympic cyclist
Lucy Stephens, triathlete
Luke Cummo, UFC Ultimate Fighter
Mac Danzig, athlete
Martina Navratilova, ex-tennis player
Mirco Bergamasco, Italian international rugby player
Mike Tyson, ex-heavyweight boxing world champion
Patrik Baboumian, 'Strongest Man of Germany' winner and multi-record breaker in powerlifting
Pat Neshek, baseball player
Phil Neville, former Manchester United / Everton soccer player
Rich Roll - Ultraman athlete
Sally Eastall, marathon runner - UK No 2
Scott Jurek, ultra-marathon runner
Serena Williams, tennis player
Tim Bradley, welterweight boxing world champion
Tony Gonzales, NFL American football star
Venus Williams, tennis player
Famous Vegan Writers and Artists
Alice Walker
Benjamin Zephaniah, performance poet and author
Dan Piraro, cartoonist
Dario Argento, writer
Howard Lyman, former cattle rancher turned activist and author
John Robbins, activist and author
Kurt Halsey, artist
Nicole Lapin, Journalist, CNN anchor
Percy Bysshe Shelley, poet
Victoria Moran, author
Famous Other Vegans
Anthony Robbins, motivational coach
Benjamin Spock, M.D., pediatrician
Brian Greene, theoretical physicist
Casey Kasem, US radio host
César Estrada Chavez, Mexican civil rights activist
Coretta Scott King, civil rights leader
Dennis Kucinich, US Democratic politician
Heather Mills, model, celebrity, and activist
Ingrid Newkirk, animal rights activist
Janez Drnošek, President of Slovenia
Dr John H Kellog (brother of WK Kellog who founded the Kellog Company)
John Peel, British DJ
Leonardo Da Vinci, Italian painter and inventor
Lynda Stoner, actress, animal rights activist
Saint David, Christian Welsh Saint
Supreme Master Ching Hai, Spiritual leader
If you know of any other famous vegans that are missing from our list, please let us know and we'll gladly confirm and add them.
"If you could see or feel the suffering you wouldn't think twice. Give back life, don't eat meat." - US actress, Kim Basinger